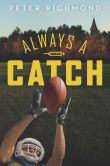 Jack is headed to Oakhurst Hall, a boarding school in the middle of nowhere. He hasn't been getting along with his dad and likes his new stepmom even less at the moment. When his father suggests the change, saying it will be the perfect answer to getting Jack into a good college, Jack isn't thrilled. However, after further thought, Jack recognizes the opportunity is a chance to get away from his father who spends most of his time traveling for business anyway.
Getting a fresh start encourages Jack to try new things. One of those things is football. He has never played a organized sport, but the few times he has played catch, he has displayed a natural ability to grab a football with almost magic hands. After earning a spot on the JV team, Jack's talent is noticed, and he is moved to varsity. Now he has to figure out what his demanding coach expects of him and how to gain acceptance from the rest of his teammates who have been playing together for years.
Jack has another talent. He plays piano and is being encouraged by the school music teacher to enter the annual concert/contest held just before the Thanksgiving break. His piano skills also open another opportunity for Jack when he meets up with several other boys interested in starting a band. Between football and the band, Jack is beginning to find himself as an individual. It may just be one of the best things that have ever happened to him.
Author Peter Richmond takes an insecure young man and shows his journey of discovery and greater self-confidence. Jack experiences bullying, difficult and demanding teachers, and living away from home for the first time. It is not always easy, but Jack is determined to be successful.