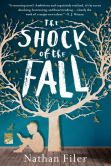 A big thank you to my neighbor and Goodreads. My neighbor won a copy of THE SHOCK OF THE FALL by Nathan Filer as one of her many prizes from Goodreads. She insisted that it was one I should be sure to read. I'm truly glad she shared it with me. Not specifically a YA selection, I know of a number of high school students who will enjoy it when I add it to my classroom shelf.
Matthew is several years younger than his special needs brother Simon. They spend most of their time together, and Simon worships his younger brother. When Simon meets an untimely end, Matthew's life begins to crumble.
No doubt the seeds of mental illness were planted long before Simon's death, but whatever the cause, Matthew's schizophrenia gradually takes control. In the years after his brother's passing, Matthew takes to writing his thoughts and stories, many of which recount memories of the two siblings and family life before the tragedy. Grief is often overwhelming for Matthew, leaving him unable to function normally.
It is difficult to explain the attraction this story held for me. Something about the flow of Filer's words on the page pulled me in wouldn't let go. Matthew's character explains his mental illness but never uses it as an excuse. He knows life is and always will be challenging, but he refuses to forget his brother even when the drugs he is given are aimed at taking away the one voice he longs to hear. Filer combines his talent as a writer with his experience as a mental health nurse to take his readers into the mind of a schizophrenic. It is an imaginative yet frightening place.