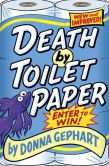 Yep, I admit it; the title and cover sold me on this one. Didn't even read the description, just bought it.
Ben is in seventh grade. He spends his free time entering sweepstakes. Hoping to finally win an awesome grand prize, Ben enters mail-in contests and logs into online sweepstakes. He has gotten lucky a few times, but so far that has only earned him a life-time supply of instant oatmeal (plain) and a barbecue grill. Those along with a few other minor prizes continue to fuel his hopes for a BIG win.
Times have been tough since his dad died. His mother works hard as a waitress at a pancake restaurant by day and studies at night to pass the final test to earn a certification as an accountant. No matter how much she earns and how frugally they live, they are still behind in their rent payments and are about to be evicted. Winning the grand prize in the Royal-T toilet paper caption contest would be just what they need to catch up on the rent and help them out until Ben's mom can pass that test and get a better job at Mr. Daniels' CPA firm.
Between dodging the landlord, dealing with a bully at school, and worrying about his grandfather's memory issues, Ben is trying everything he can to help his mother make their Grand Plan come true. Ben is a kind-hearted kid who puts his personal needs aside for the sake of family.
DEATH BY TOILET PAPER by Donna Gephart is a fast-paced middle grade novel that touches on financial hardship and dedication to family and friendship. I'm glad the title and cover caught my eye.