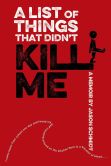 Jason Schmidt begins his story with the memory of arriving home at the age of sixteen to find his father crawling around on the floor in a pool of his own blood. Raised by this single father whose world revolved around drugs and gay men, Jason was faced with a daily struggle to survive.
Father and son moved from one unkempt home to another from Seattle to Eugene to San Francisco and back. At times they were homeless or simply crashed with friends or acquaintances. Constantly moving, meant different schools for Jason or no formal schooling at all. Fortunately, he finally found himself in a high school that fit his needs and allowed him to graduate and go on to college despite a lack of parental guidance.
Jason describes endless time alone, forced to fend for himself. The childhood illnesses and injuries that occur in most families, were potentially life-threatening for the young boy whose father was usually more interested in scoring his next drug deal than taking care of his son. He witnessed his father's arrest and dealt with the AIDS/HIV diagnosis that would eventually take the man's life.
How does a young boy survive such a tumultuous childhood to become a fully functioning adult? Jason Schmidt shares his very personal and touching experience with readers in this blunt, humorous, and fascinating memoir. His courage and determination are clearly evident and are sure to inspire anyone who reads A LIST OF THINGS THAT DIDN'T KILL ME.