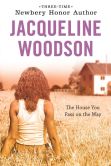 "I'm me. That's all." That's the attitude that helped Staggerlee get by in a small, Southern town called Sweet Gum. Her grandparents were famous entertainers, and after their tragic deaths, there was a memorial erected in their honor. But even famous ancestors didn't make up for the fact that Staggerlee and her siblings were the product of a mixed-race marriage.
Her daddy was black like most of the people in Sweet Gum, but her mama was one of only a handful of white people. Staggerlee didn't mind who she was, at least not until she entered middle school. Known as a loner, she wasn't bothered by her biracial heritage, but rather by a deeper feeling that began with the onset of puberty. Staggerlee was more interested in girls than in boys. A surprise kiss with Hazel in a field of blue cornflowers thrilled her beyond belief.
Hoping she had discovered a kindred soul, Staggerlee was devastated when Hazel's reaction to their encounter was to shun her and join up with the other popular kids, leaving Staggerlee alone once more. Happily, the summer between middle school and high school brought an unexpected visitor. A long lost cousin was sent to visit Sweet Gum for the summer holiday. It didn't take the two girls long to discover they had more in common than being cousins. For the first time Staggerlee felt she had a true friend.
Three time Newbery Honor author Jacqueline Woodson published this book in 1997. Although it doesn't seem that long ago to this seasoned reader, Woodson's story holds up well and should be of value to today's teen readers. THE HOUSE YOU PASS ON THE WAY is worth checking out as a middle grade read for those questioning their place in the world around them.