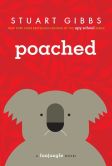 I thought BELLY UP by Stuart Gibbs was terrifically hilarious when I read it a few years ago so I decided to try another one of his books.
Teddy is back solving mysteries at FunJungle and causing havoc in the process. Living at a zoo evidently isn't exciting enough for Teddy. His penchant for playing practical jokes has gotten him in some hot water in the past, but the occasion to investigate the kidnapping of the zoo's borrowed koala, Teddy takes things very seriously.
When it is revealed that Teddy is the prime suspect in Kazoo's disappearance, he knows he must take things into his own hands. He is suddenly extremely busy dealing with Large Marge, a security guard out to get him, and handling a bully named Vance and his sidekicks who are harassing him at school and at the zoo. Can he find the kidnapper before the koala starves? Is it a disgruntled employee or one of the keepers hoping to strike it rich with a huge ransom?
POACHED is classic Stuart Gibbs with plenty of humor, non-stop action sequences, and amateur sleuthing. It is perfect for middle grade readers looking for a fast, fun read.