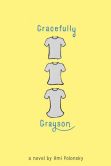 Grayson has been living with his aunt and uncle since his parents died in a car accident. Always feeling a bit left out, Grayson, now in the sixth grade, is desperately trying to make friends and fit in at school. His favorite teacher, who everyone calls Finn, encourages him to participate in the classroom and beyond, but it isn't until the announcement of the upcoming school play that Grayson truly decides to take a risk.
Tryouts for a play depicting the mythological story of Persephone have many students eager to read for a part. Grayson knows the story and at first thinks he might tryout for the part of Zeus. As he watches another boy read for that part, he realizes his true desire is to try for the part of Persephone.
For as long as Grayson can remember, he has daydreamed about wearing girls' clothing. In fact, every morning as he stands in front of the mirror, he tries to conjure up an image in which his baggy track pants morph into a flowing skirt. With no one to confide in, Grayson struggles along hiding the person he truly is.
What if he successfully wins the lead female role in the play? Will he have the courage to play the part, and what will be the consequences?
Author Ami Polonsky tackles a hot-button topic in GRACEFULLY GRAYSON. She delicately paints a picture of Grayson's inner turmoil, his deep desires, and his never ending wish to please the parents he lost so suddenly. This emotionally packed read definitely addresses a need in young adult literature.