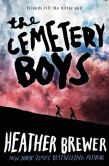 Stephen can't believe his father says they are moving from Denver to some podunk town in Michigan. Medical bills for Stephen's mother are piling up and have depleted the family's entire savings. According to Stephen's dad, moving back to Michigan to live with Stephen's paternal grandmother is their only option. Stephen knows that means leaving his mother in the mental health facility in Denver, but his dad assures him they will move her closer as soon as possible.
One would think moving in with a grandmother during stressful times would be helpful, but the moment Stephen lays eyes on his grandmother, he knows she hates that they have arrived. As his father begins looking for work, Stephen tries to stay away from the house as much as possible. He soon meets a few guys who invite him to hang out with them at the Playground, their nickname for the local cemetery.
While hanging out with the guys, Stephen learns of a local legend involving the Winged Ones. These giant winged creatures appear from time to time, and according to the tale, must be appeased with a human sacrifice so the town can avoid impending hard times. It all seems a bit farfetched, but even Cara, the beautiful sister of one of Stephen's new friends, argues that the Winged Ones really do exist.
Stephen thinks the whole town is creepy, and when he realizes that Cara's twin brother Devon has an unnatural power over the rest of the guys who hang out at the cemetery, Stephen decides he needs to take action. Can he convince the others that Devon is out for blood? Or will Devon reveal that someone else is actually connected to the Winged Ones and their power over the town?
Author Heather Brewer deftly combines reality and fantasy in this thrilling tale. She captures Stephen's desire to become part of the group and at the same time protect himself from the all-consuming power that has the rest of this small town mesmerized. THE CEMETERY BOYS is intriguing and a bit frightening and a great summer read!