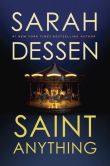 Sydney feels invisible. Her parents are completely wrapped up in her brother Peyton's life since the accident. No, he wasn't the victim, although, Sydney sometimes thinks her mother has forgotten that.
After several stints in rehab for drugs and alcohol addiction, Peyton was driving drunk and hit a boy on a bicycle, leaving the boy paralyzed from the waist down. Sydney vividly remembers the trial and conviction, and now she's living with a brother serving time in prison. Her mother is focused on Peyton's rehabilitation, and her father is focused on paying lawyers and making sure his wife doesn't fall apart.
Things begin to look up a bit when Sydney changes schools. One afternoon after class, she stops for a slice of pizza at Seaside Pizza. The pepperoni pizza is amazing, and besides that, she meets handsome Mac and quirky Layla. Seaside and a pepperoni slice become a daily habit, and Layla becomes Sydney's new best friend.
It is still tense at home, but Sydney finds that the Chatham family provides a welcome get-away from the stress and pressure she feels with her own parents. Although she's a little more relaxed, the underlying guilt Sydney feels about her brother's role in the crippling of a young teen is something she knows she will eventually need to confront. Will Sydney find the acceptance she seeks from her parents? Will she be able to rekindle the childhood relationship she had with her brother even while he is locked up?
Author Sarah Dessen strikes again. SAINT ANYTHING explores family relationships, love, and facing the consequences of our actions in this thought-provoking and heartfelt journey. Dessen fans will speed read this one and no doubt return for more. At least that's how one of my students responded telling me she loved it and read it twice in the less than a week.